Description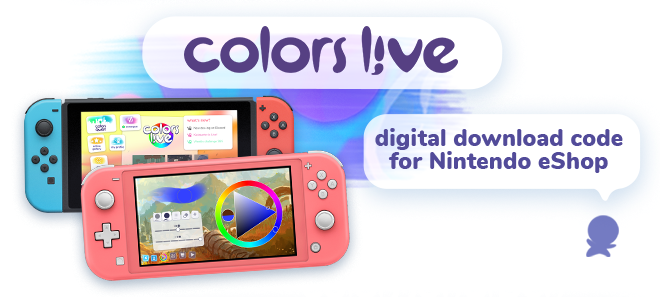 Colors Live is a powerful and fun painting app/game for seasoned artists and beginners alike that turn your Nintendo Switch into a portable art studio. Paint anywhere, whether you're at home or on the go.
Pressure-Sensitivity with the bundled Colors SonarPen

 gives you wider stroke or more opaque the harder you press. Combined with the 

physical buttons

 on the Nintendo Switch, the painting flow is incredibly fast and intuitive.

Colors Quest,

 

a creative new game-mode,

where you spend a little time painting every day to progress and level up. Designed for 

beginners and masters alike

, you'll get to see how your painting skills improve day-by-day.

The colorslive.com gallery

 – Colors Live also features integration with the widely popular Colors Gallery to which the community has uploaded an astonishing 4 million paintings, each with a unique 

Painting Playback

. Follow your friends and talented artists and share your creations with the world.
---
ℹ️ Your Colors Live Nintendo eShop download code is included on the order confirmation e-mail. Please redeem it in the Nintendo Switch eShop!
Please choose the region that your Nintendo eShop account is associated with! 
region Americas: Argentina, Brazil, Canada, Chile, Colombia, Mexico, Peru, USA 
region Europe: EU, Israel, Norway, Russia, South Africa, Switzerland, UK 
region Japan: Japan 
region Australia: Australia, New Zealand
---
Colors SonarPen
is a pressure-sensitive, responsive stylus and the best way to experience painting with Colors Live. It was created in cooperation with GreenBulb, who have produced versions of the SonarPen since 2018.
Pressure-Sensitivity

– natural painting feeling and fully customizable for stroke thickness, opacity or both

Palm rejection and s

hortcut button

– you can comfortably rest your hand on the screen while painting for easy access of your favorite brush or tool
Support for both left- and right handed artists – the cable-length (19.67 in/50 cm), light weight (0.74 oz / 21 gr) and configurable Joy-Con™ buttons (for quick function access) allows anyone to paint comfortably.

No battery or Bluetooth pairing needed

– Colors SonarPen plugs into the headphone jack of your Nintendo Switch and comes with a 1 year limited warranty

---
ℹ️ Colors SonarPen and SonarPen Pouch will be despatched from our warehouse within a few days. Due to the pandemic, shipping times may vary extensively.
---
Patron exclusives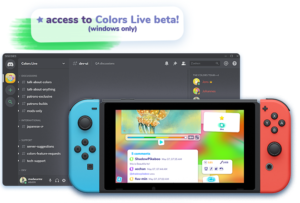 Access to Colors Live Beta (windows only)
We welcome fans to have an active voice in the development of Colors Live. Access to the Colors Live Beta is the most hands-on way of doing just that, and it gives you access to experimental features such as video playback export and exporting your 3D paintings with depth, that can be used as a Facebook 3D Photo! (like this one by FadingGlory). The Beta runs on Windows and has full support for drawing tablets like Wacoms and Huions.

Access to developers forum
The best way to take part in the development and discuss the next big features, is to hang out in the Developer Forum where our most dedicated fans discuss the development of Colors Live directly with the developers. The Colors Live Discord server is open for everyone at colorslive.com/discord but Patrons get special Discord roles which grant access to the Developer Forum Channels.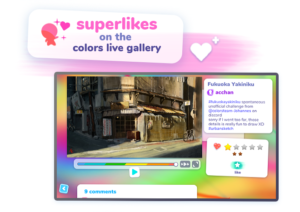 2 x Superlikes
Now you can give that favorite painting of yours a Superlike to show special appreciation to the artist and their work. But you better think twice before you superlike a painting as Superlikes are super-rare.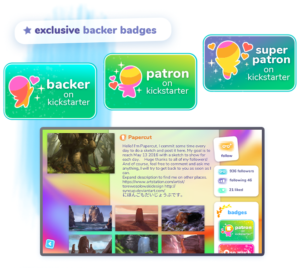 The exclusive "Pre-order" and "Pre-order Patron" badges are unique gallery badges for your Colors Live artist page. Show the community that you are a Patron and that you pre-ordered Colors Live for the Nintendo Switch.
---
ℹ️ Your colorslive.com Patron redeem code is included in the order confirmation e-mail. Please redeem it on colorslive.com/redeem!
---